August • 2011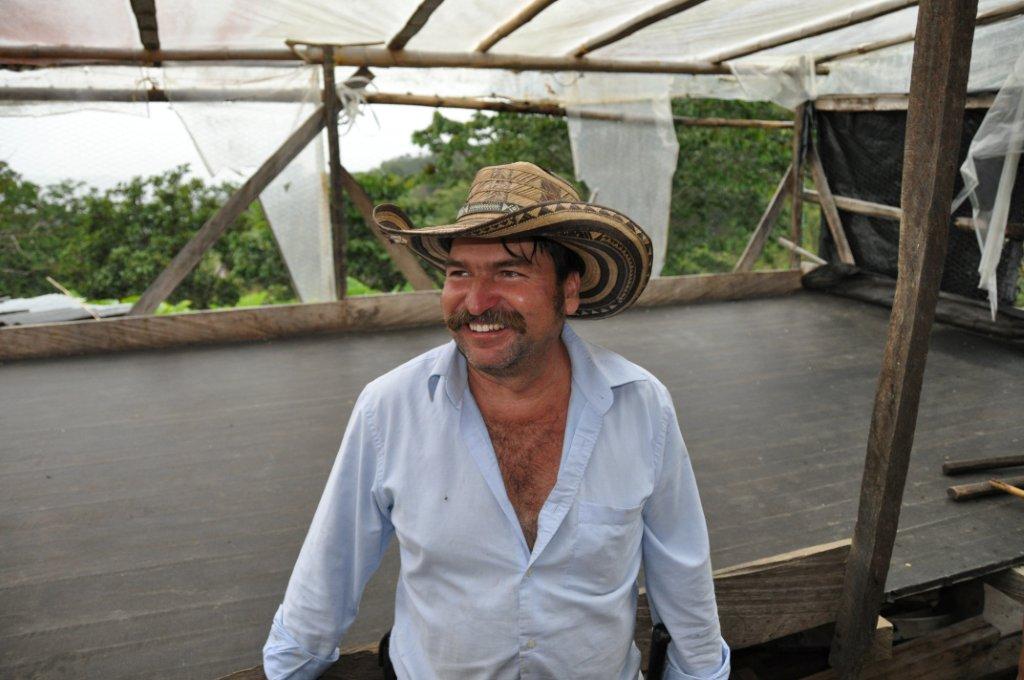 Arnulfo Leguizamo, 2011 Colombia Cup of Excellence Winner
Hello Friends,
In the midst of a spectacular Seattle summer, the 2011 Colombia Cup of Excellence brings brightness and beauty to our roastery and café. Wired Magazine recently wrote a full length article, "Sip, Spit, Grade: Coffee Experts Crown Colombia's Best Beans", describing how this award-winning coffee was produced. Bizarre Food's Andrew Zimmern who came by our cafe last week to film a segment for the upcoming season, thought this coffee was "insane." (We'd like to think he meant insanely good.) Suffice it to say that few coffees are worth the $49.95 price tag, but this coffee delivers on all fronts: rich, sweet, and sublime.
If you would like to sample a different outstanding coffee for a value price, we suggest the Colombia Geisha. For $34.95, this coffee has beautiful balance and depth.
For those of you seeking just a straight-up excellent coffee, we have not forgotten about you. Check out the wonderfully fruity, and according to one customer "addictive" Ethiopia Bench Maji. One of the team favorites for the past few weeks has been the floral and citrusy Colombia San Augustin. We would be remiss, if we omitted the very seasonal ("Rainier Cherry notes") Panama Boquete Classico. All of these coffees are available for less than $15.
1. Use a French Press: Here at Seattle Coffee Works, we tested numerous methods of brewing coffee and found that in a blind taste test, the French Press produced the most consistently excellent results especially considering its easy of use.
2. Fresh Coffee: Have you noticed that we have the roast date on all of our coffee bean bags? We place a primacy on freshly roasted coffee, because coffee beans have a very limited shelf life of 2-3 weeks after the roast date.
3. Freshly Ground: Buy whole coffee beans, not ground. Once coffee is ground, you measure its freshness in seconds, not hours, days, or weeks. Grind your beans just before you brew.
4. Use a Burr Grinder: Invest in a burr grinder, instead of the cheaper, smaller blade grinder. A burr grinder produces a more uniform grind than a blade grinder. You can purchase a serviceable burr grinder for home use for under $50.
5. Filtered Water: Use filtered water: the cleaner and better-tasting the water you use, the more delicious your coffee will be. Faucet filters are the most sustainable and inexpensive way to filter your drinking water.
6. Use the Right Ratios: For every 4 oz of brewed coffee, use a tablespoon of ground coffee.
7. Hot Water, Off the Boil: Bring the water just to a boil and then let it cool for about 45 seconds to about 204 F.
8. Time it: Set your kitchen timer to four minutes and turn it on. Pour the water evenly over the coffee grounds. If you are using freshly roasted coffee, you will notice that the coffee grounds will float to the top.
9. Let the Coffee Bloom: Allow the coffee to bloom for a few seconds, before gently depressing the grounds (so that they all touch the water).
10. Press and Enjoy: Press the pot when the timer goes off and pour immediately.
Tell us what you think of the Colombian coffees and our tips for making the perfect cup of coffee.
Enjoy the rest of the summer,
Your Seattle Coffee Works Team